Welcome to Hell!
This ledger forms part of the register of all the books acquired by the City Library of Antwerp, the current Hendrik Conscience Heritage Library. Until the 20th century inappropriate books were marked with the red label "hell". Inappropriate books were those that were either considered sexually insulting or undermining the authorities.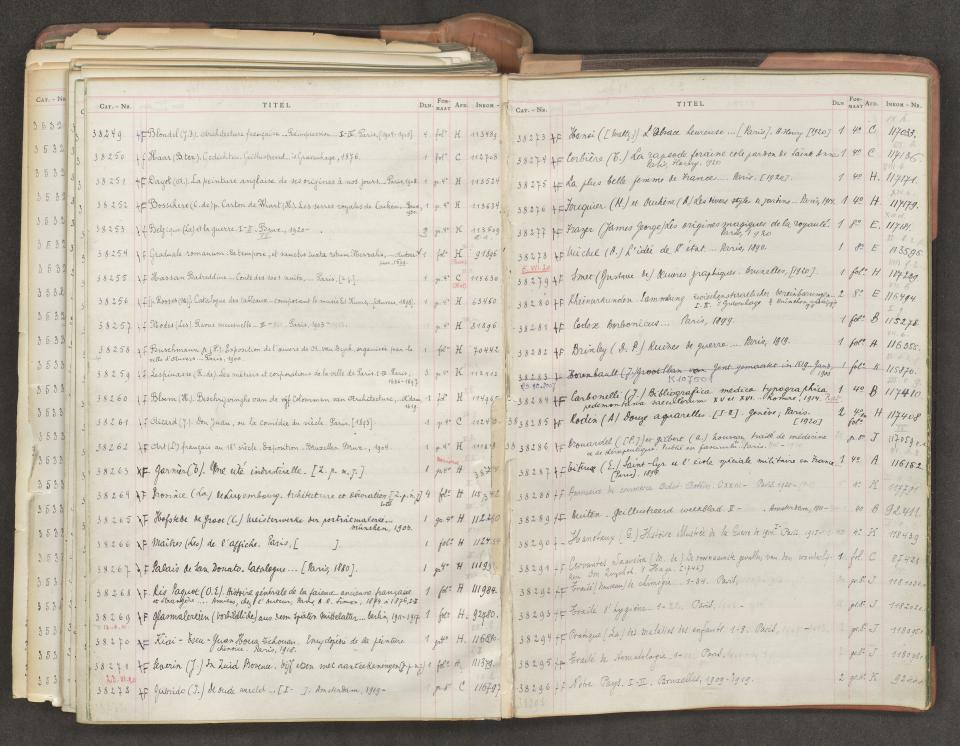 Page out of het stamboek van de Stadsbibliotheek
The stories of the Thousand and One Nights
One of these inappropriate books is Hassan Badreddine El Bassraoui: conte des 1001 nuits (1919) illustrated by the Dutch artist Kees van Dongen (1877-1968). Nowadays the Thousand and One Nights, also called The Arabian Nights, are better known as fairy tales based on the original stories, the story of Aladdin being one of the most well-known. It is less well known that Aladdin is most probably a story introduced by the first European translator, Antoine Galland (1646-1715), in his version of the Thousand and One Nights in 1717, without actually having an original Arabic text at his disposal. The story does not form part of the Arabic manuscripts and editions of the Thousand and One Nights, and Galland probably wrote it himself based on stories told to him by a Syrian priest.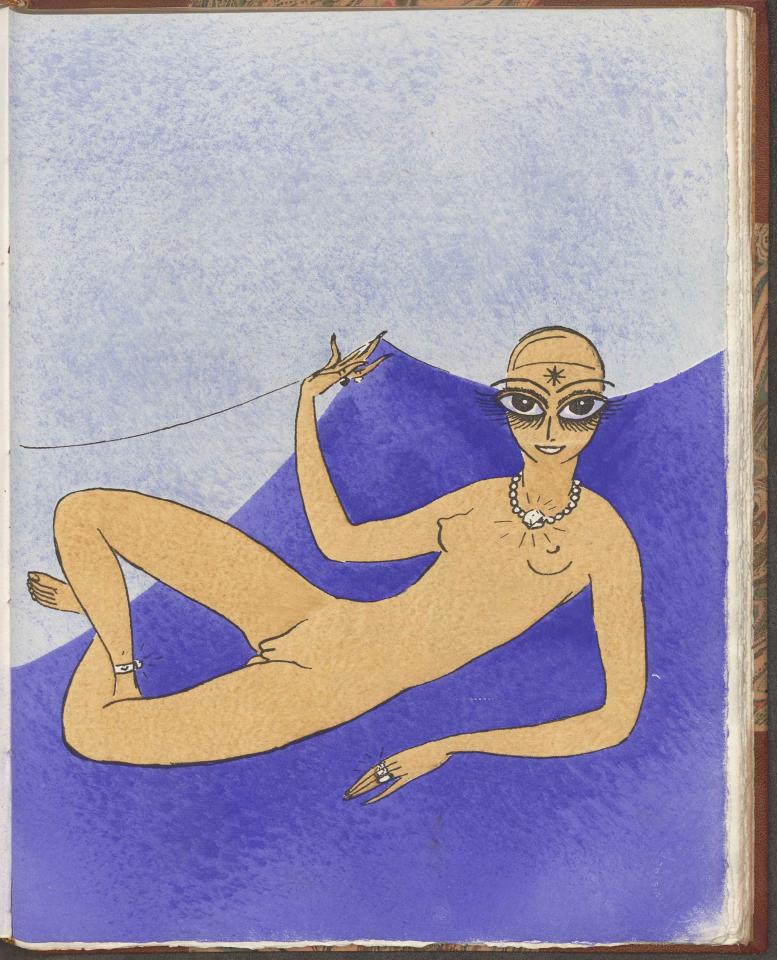 Page out of "Hassan Badreddine El Bassraoui : conte des 1001 nuits" with illustration from Kees Van Dongen
Libertine thinkers
The start of explicit erotic literature is attributed to the libertine thinkers. They combined in their works socially critical ideas with explicit eroticism. In their view, free sex was but one aspect of the absolute free state of the individual. A reflection of their ideas is Het Mengelmoes [The Hodgepodge], a unique manuscript dating from 1696. Het Mengelmoes is a collection of stories and songs opposing the Church and legal authorities using porn as a form of rebellion. This collection escaped censorship because it was never published. As a testimony of an alternative literary circle in Antwerp at the end of the seventeenth century, this manuscript served as a basis for the doctoral thesis of Sven Molenaar in 2019 ('Als rechte libertinen': het verzamelhandschrift Het Mengelmoes als getuigenis van een alternatieve literaire kring in Antwerpen aan het einde van de zeventiende eeuw).
Pagina uit "Het Mengelmoes"
Six nuns
One of the songs is about six nuns fantasizing having sex with a priest.
"Daer waeren eens ses ghesusterkens die om een paepe van curom dom daepen van curom dom doos dobbelden den heelen nacht wie bij mijn heer sou slaepen van curom dom daepen van curom dom doos"
[Once upon a time there were six little nuns who for a priest of curumb dumb apes of curumb dumb case played dice the whole night who would sleep with the gent of curumb dumb apes of curumb dumb case]
Gallant literature
The word "porn" was invented in the nineteenth century. Until then littérature galante, or literature in the gallant style, was the common term. The most important Belgian writer and publisher in the style galant was Henry Kistemaeckers. In Le dix-huitième siècle galant et littéraire (1891) he informs his readers that the Belgian censors were forcing him to stop publishing these kind of gallant works.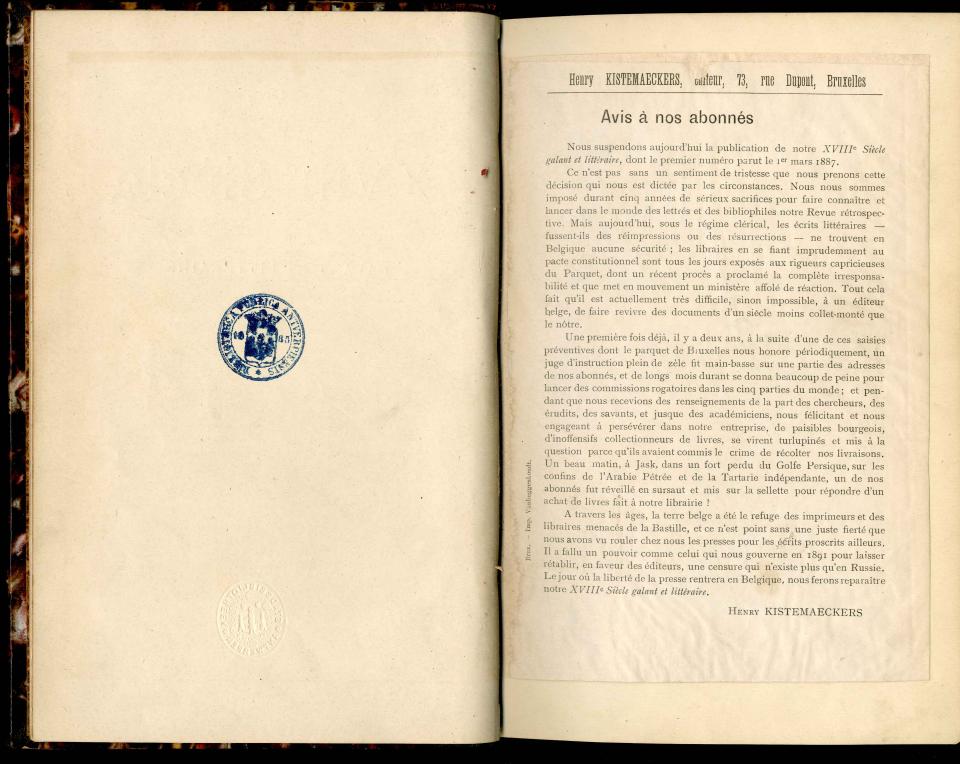 Page out of "Le 18e siècle galant et littéraire"
Le nu esthétique
Le nu esthétique: Is another book which got marked with the label "hell" in the library's acquisition register. This book consists of nude photographs of men, women and children. The book's aim was to inspire artists, but it had in reality a quite sexually arousing effect on the majority of its readership.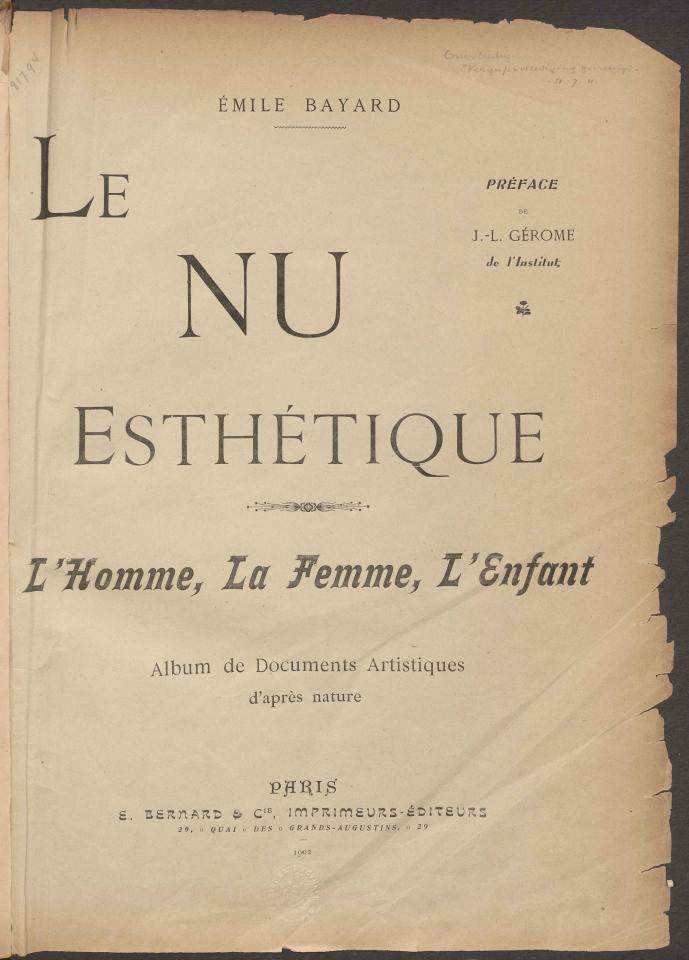 Front page from "Le nu esthétique"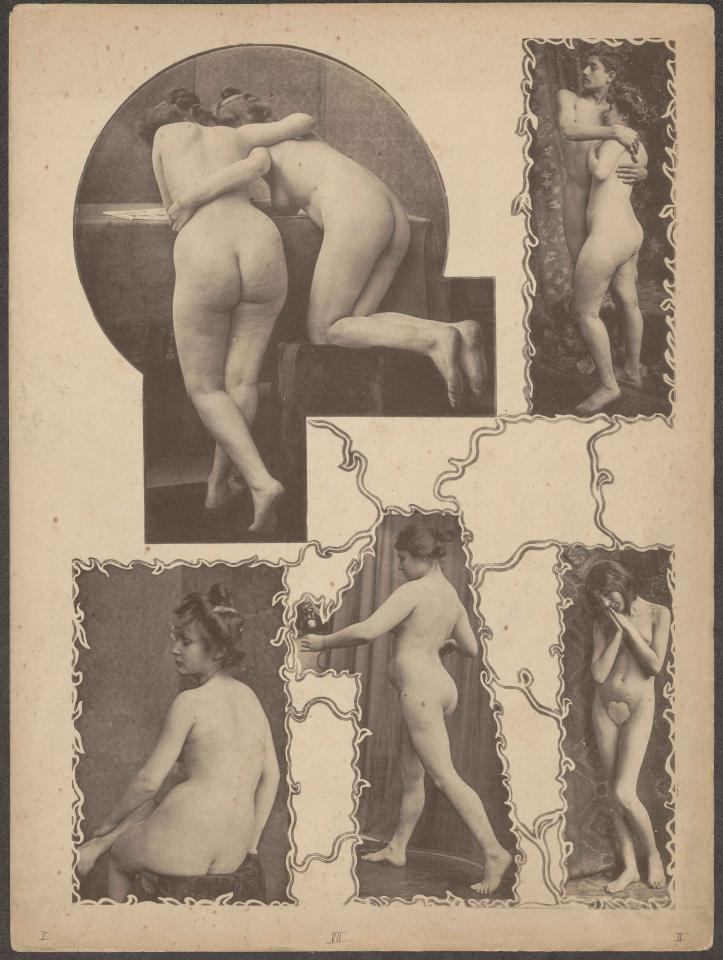 Page from "Le nu estétique"
Gerard Walschap
During the interbellum erotic literature was still a taboo. However, the general mentality shifted slightly towards a more open stance. Adelaide by Gerard Walschap, published in 1929, is a fine illustration of this change in moral attitudes. It is the story of a woman who feels confined by the straitjacket of Catholic rules regarding sex and marriage. In the book the lead character vividly describes her sexual fantasies. In one of the pivotal scenes she imagines herself naked while being spied on by a group of men. In the end she kills herself, overwhelmed by guilt. As soon as the book was published, the Catholic community reacted with vehemence. Adelaide was added to the infamous Catholic Index, a list of prohibited books. A year after its publication, despite the indignant response of the Catholic Church, Walschap received two literary awards for this novel, the August Beernaert Prize of the Royal Academy for Dutch Language and Literature (Koninklijke Academie voor Nederlandse Taal- en Letterkunde), as well as the Prize for Literature of the Province of Antwerp (Prijs voor Letterkunde van de Provincie Antwerpen).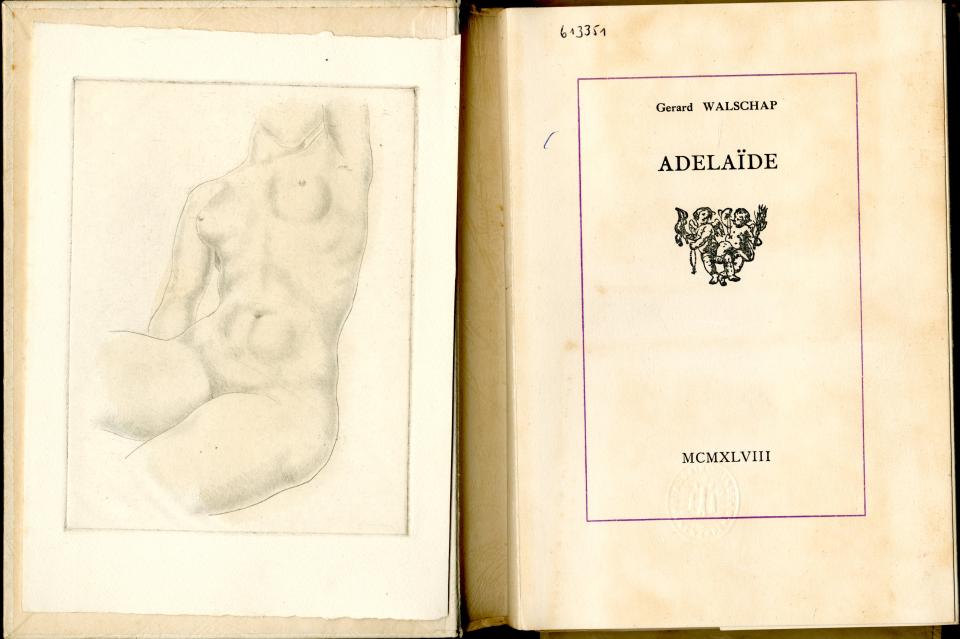 Cover from "Adelaïde"
Jan Hammenecker (1878-1932), comments in a letter to the writer on the passage wherein Adelaide imagines herself being spied upon: "I am infinitely sad: listen to me, Gerard, your book "Adelaide", it is currently burning in my stove: beautiful cover, beautiful typeface on good quality paper- splendid style (see Marnix Gijsen) beautiful flames: adieu Adelaïde! Away Adelaïde!"
'Realistic' pulp novels
From 1950 till 1970 the writing and reading of porn soared in Flanders. Pornographic pulp novels were printed regularly and in high quantities. These booklets were published in cheap editions, as they were not meant to be read more than once, nor to be kept on bookshelves. They were consumer goods. The serial edition is typical of pulp fiction. Untill 1968 a vast amount of these books were exported from Flanders to the Netherlands, where erotic literature was even more severely censored. From '68 onwards the rules of the game changed and the Dutch mindset became rapidly more progressive and tolerant than its Flemish counterpart.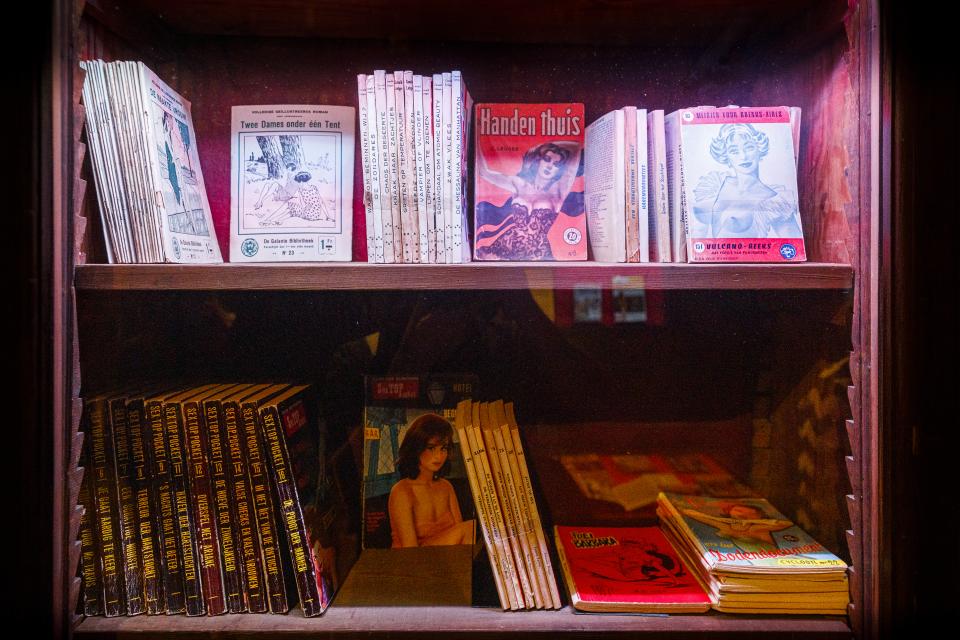 Suggestive covers
The novels' covers were initially evocative and suggestive, but soon became more explicit. In order to attract (male) readers, reference was often made to popular culture, such as the American actress Marilyn Monroe. Well-known Belgian comics such as Suske en Wiske (known as Spike and Suzy in the UK and Willy and Wanda in the USA) were heavily parodied. These pornographic novels give a good idea of the prevailing mentality at the time of which they were the product, and of the popular themes and issues of that period. They were designed to appeal to a large public (primarily white, heterosexual men).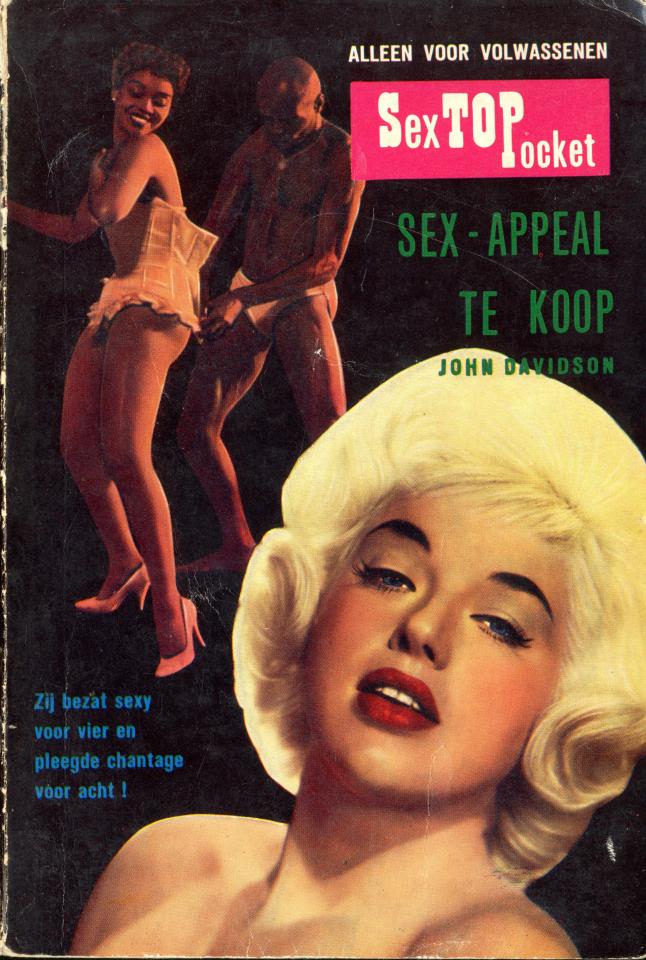 Cover  from "Sex-appeal te koop!"
Stereotypic stories
As a result of its intended readership most pornographic novels were quite stereotypic. The same themes recur over and over again, such as prostitution. Some of the popular narrative elements and topics at that time have become completely impermissible today. Stereotypical stories about lesbians and black people as sexual pleasure objects were very common. Most stories were utterly misogynist: female characters were seen as either prostitutes or housewives.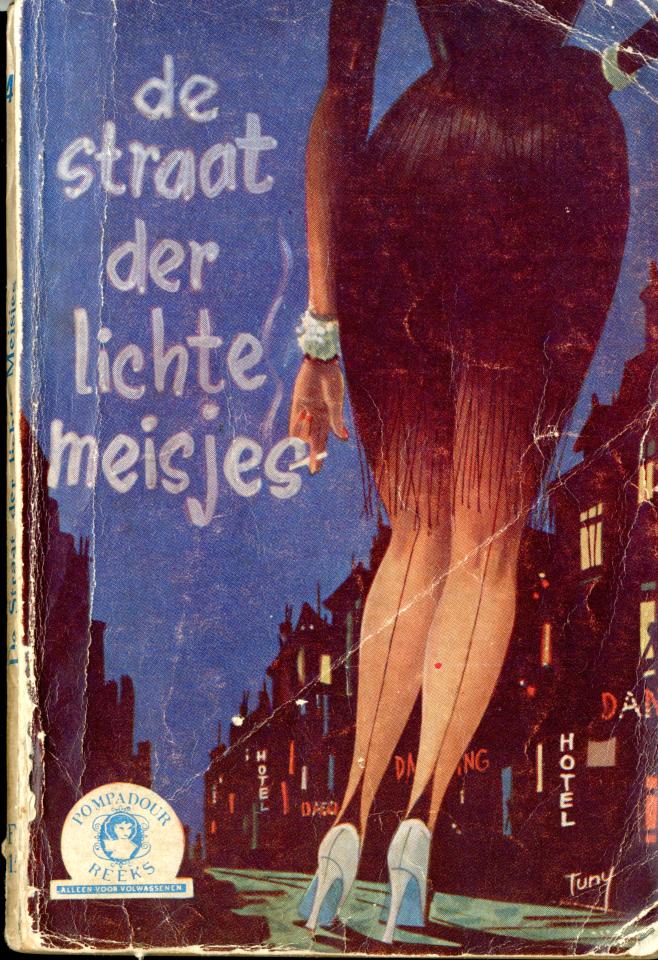 Cover from "De straat der lichte meisjes"
Black and lesbian characters
These kind of pornographic pulp novels depicted black, male characters as nothing more than big-shaped and muscular perverse primitives.
Being lesbian was regarded as a disease. A lesbian woman could only be cured by intercourse with a white, heterosexual man. Lesbian sex was only described to arouse a male readership. On the other hand, pornographic novels about homosexual men were very rare.
Cover from "Black Priapos: heet koudvuur"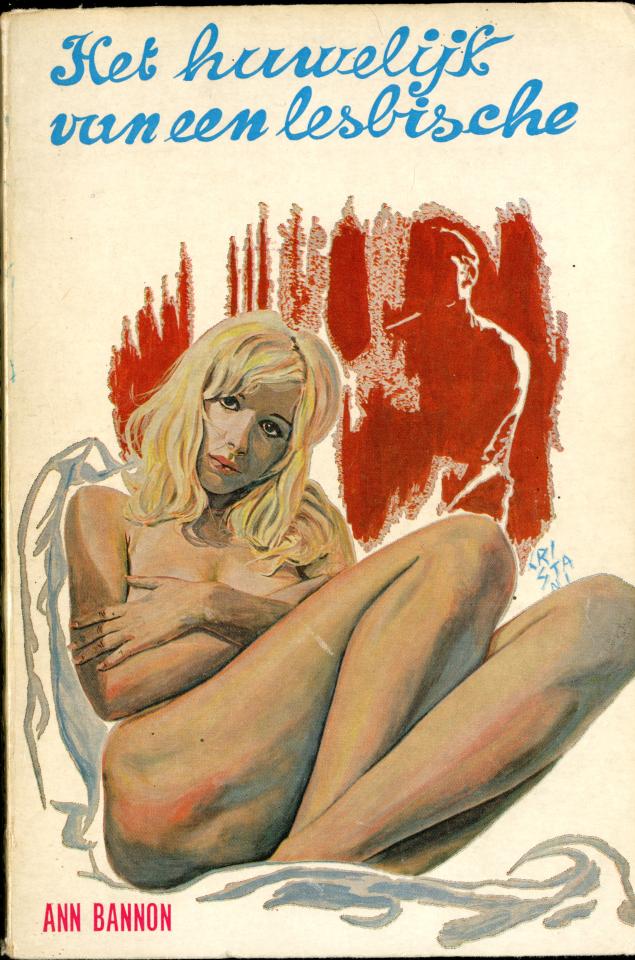 Cover from "Het huwelijk van een lesbische"
Pseudo-scientific works
Alongside the huge amount of pulp novels, pseudo-scientific works about sex appeared on the market. These books were presented as educative and scientific reference works, but in fact they were a hidden form of pornography. A very common type of these books were so-called guides and manuals. The stereotypic roles of men and women therein were overemphasized.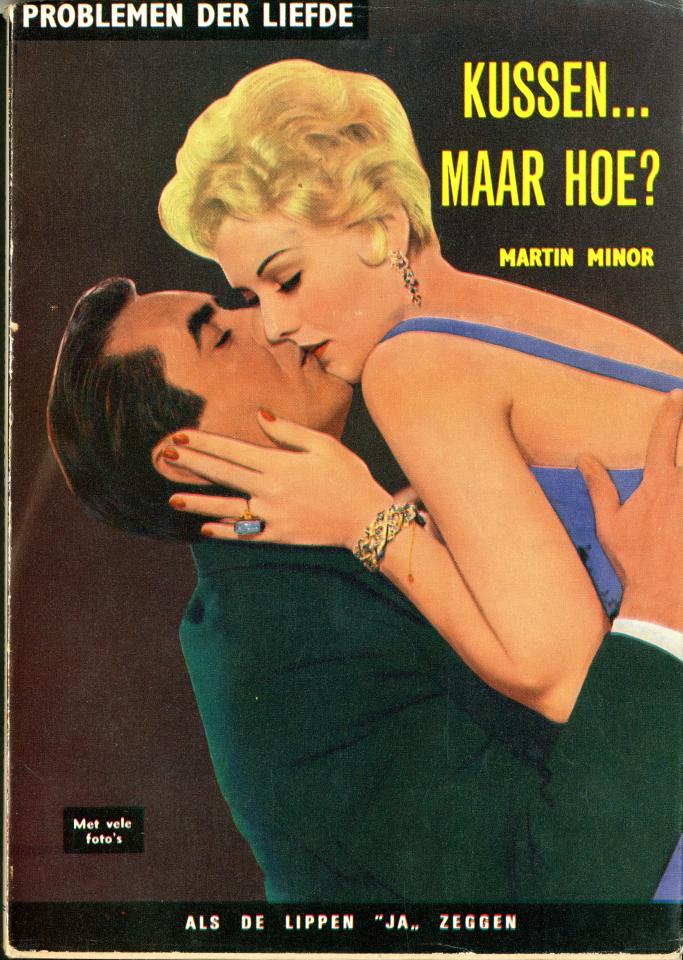 Cover from "Kussen... maar hoe? Als de lippen 'ja' zeggen..."
Foreign porn 'classics'
Another popular section of the Flemish porn industry were the stories based on foreign 'classics'. For instance, Fanny's dochters (Fanny's daughters), is largely based on and inspired by the notorious English novel Fanny Hill. Motifs and story elements of the German 'classic' novella Venus im Pelz [Venus in furs], were rehashed and adapted in Venus doet ontdekkingen [Venus makes discoveries].The works of the French libertine Marquis De Sade provided inspiration for booklets such as Julia en Anita in de leer bij De Sade [Julia and Anita apprenticed to De Sade].
Cover from "Fanny's dochters"
Cover from "Venus doet ontdekkingen"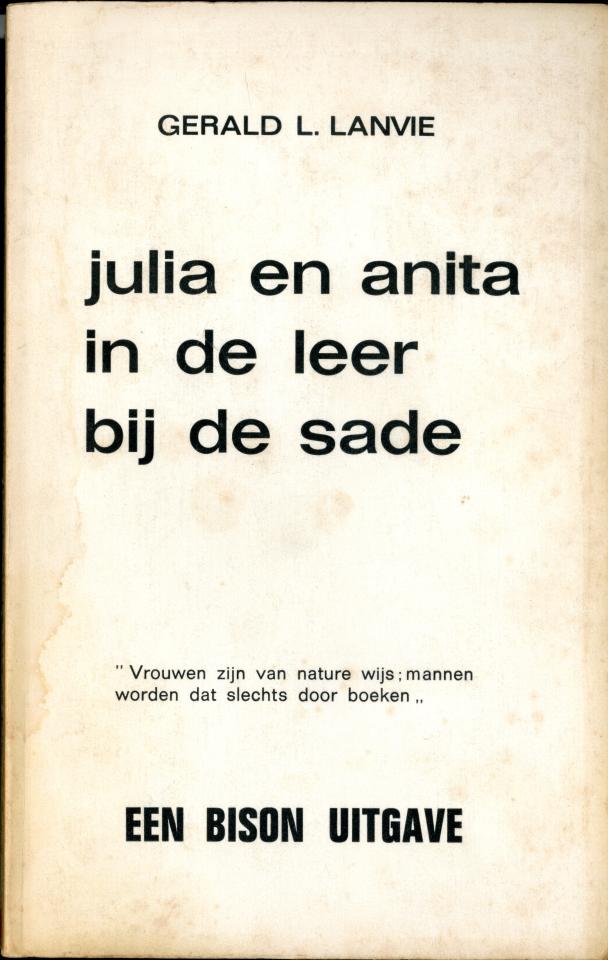 Cover from "Julia en Anita in de leer bij De Sade: roman"
Soethoudt
These three works were published by Walter Soethoudt. He was one of the most important publishers of pornographic pulp novels in Flanders during the sixties. His books are easily recognizable by their austere white cover with black lettering, simple text-only covers which remind us of similar practices employed by other publishing houses for their erotically oriented reading material, such as the Paris-based Olympia Press. By opting for a neutral look, Soethoudt could sell the books in his parents' bookshop. Aside from the fact that his mother in this way was not obliged to deal with explicit photographs, this disguise or 'cover-up' helped Soethoudt to escape censorship. He exported personally approximately a third of his production to the Netherlands. When being stopped by customs, he managed to circumvent control by handing out several of his booklets. Soethoudt himself wrote porn, using various pen names. He used several imprints for his publishing firm, such as Juthro and Bison. Later he started publishing under his own name.
Cover from "Uitgevers komen in de hemel: herinneringen"
Pulp Magazines
At the start of the 1970's the popularity of pornographic pulp novels was surpassed by porn magazines. The (principally male) audience craved more explicit imagery and magazines were better suited for presenting erotic photographs. Moreover, magazines were a lot cheaper to produce. Publishing houses famous for erotic novels started to distribute these type of magazines. De Schorpioen [The Scorpion] became one of the largest in the branch in Flanders and published amongst others the magazines Sex Top and Sexy West.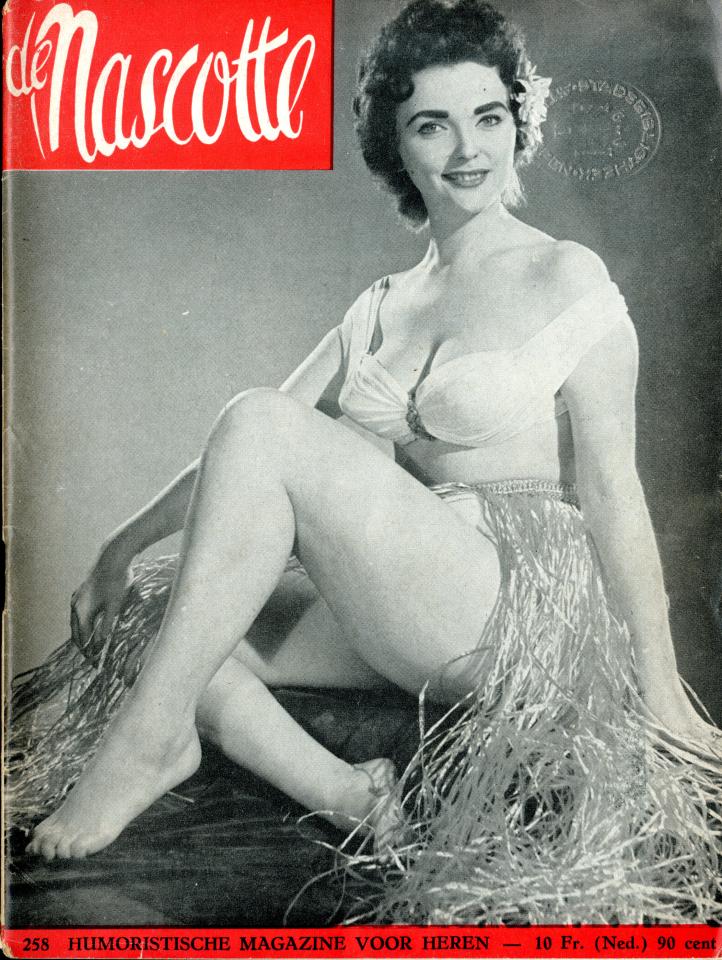 Cover from "De Mascotte 258"
Mascot
In line with the trend already seen in the novels, the covers of the magazines became more and more explicit. Here are shown some examples. This image and the previous one appeared in two separate issues of the Flemish magazine Mascotte [Mascot]: the former is from issue 258, the latter from the much later issue 436. The first issues of this magazine dealt with only one erotic story per issue, and were in their set-up and intention very much like the novels. Later on their content expanded to include features such as horoscopes and other paraphernalia.
Cover from "De Mascotte 439"
Customer relations
The Flemish publishing houses invested heavily in their customers. Some publishers delivered the books at home or sent them by post. Subscriptions to a series of novels or to a magazine were promoted. On the back covers of the novels one could always find a list of available titles previously published in that same series. Advertisements for other series of novels and magazines published by the same firm were frequently placed. Customers were encouraged to buy multiple books at once (buy 10 books, and get the 11th one for free), as shown here.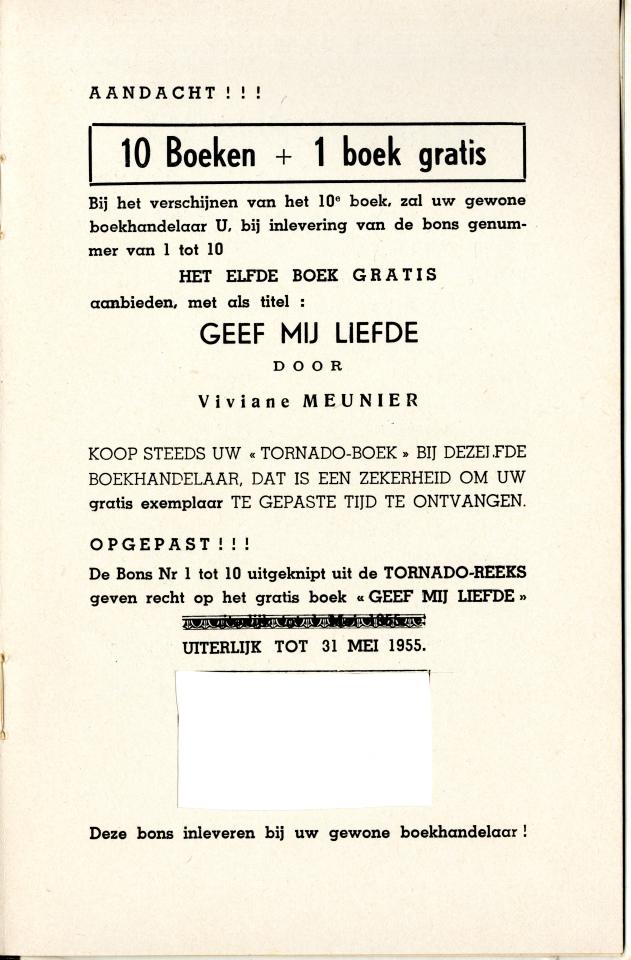 Coupon out of "Schandaal rond Eva"
Frank Van Dijck
A very active writer of pulp magazines was Frank Van Dijck. He entered the porn industry after meeting Soethoudt. However, the name Van Dijck will not ring a bell, as he used more than twenty different pen names. As a prolific writer he soon became a wealthy man. He wrote as many as 350 stories. Van Dijck used his various pen names to write about a whole range of themes from different viewpoints. Before he started writing he was a Belgian champion in judo and karate. Under the pseudonym 'professor Akimao' he wrote numerous pornographic stories about the martial arts. As 'Rosette Clément' he proclaimed to be a female-friendly porn writer. When he moved to Spain he changed his pen name in the more Spanish-sounding 'Miguel de la Cerveza'.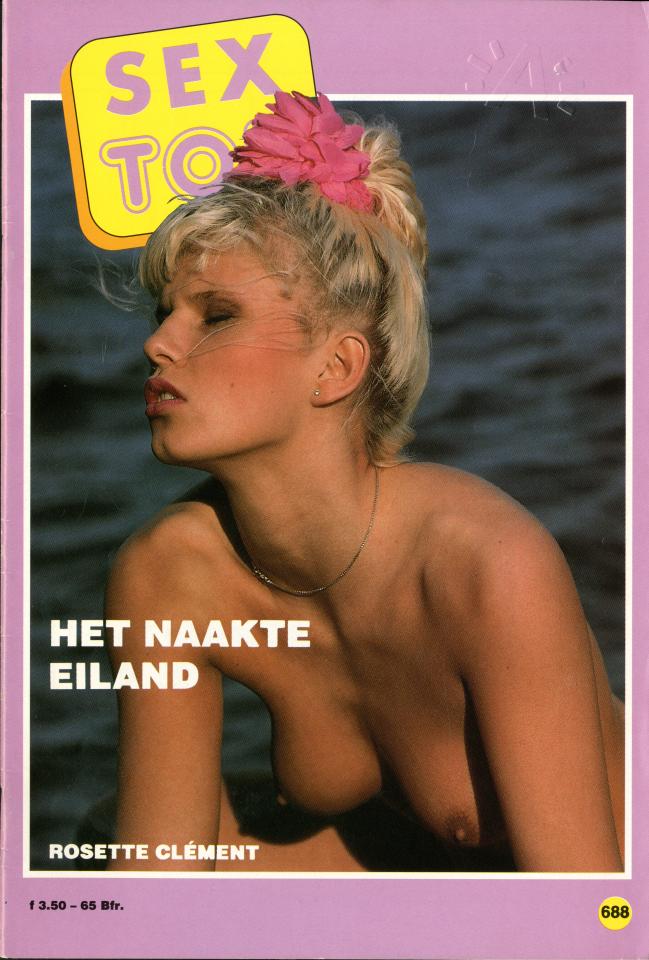 Cover from "Het naakte eiland"
Monks and money
Using the pseudonym 'Franklin Frehman', Van Dijck wrote a series of stories about Los Tres Diabolos in the magazine Sexy West. To earn some extra money without having to concoct new stories, he deleted all sex scenes and sent the abridged story to the Flemish Catholic publishing house Averbode, known for its line of children's publications. Unsuspectingly Averbode published Van Dijck's stories in De Vlaamse Filmpjes [Flemish Motion Pictures], a series of youth books massively read by primary school children. In this way Van Dijck doubled his income by rehashing and retelling the same story in a cleaned-up version. Although he used for both versions the same pen name and title, Averbode's Fathers, of the Premonstratensian order, discovered their blunder only after sixteen Vlaamse Filmpjes with stories by Van Dijck had been published. In all secrecy, the cooperation came to an abrupt end.
Cover from "Los Tres Diabolos tegen de smokkelaars"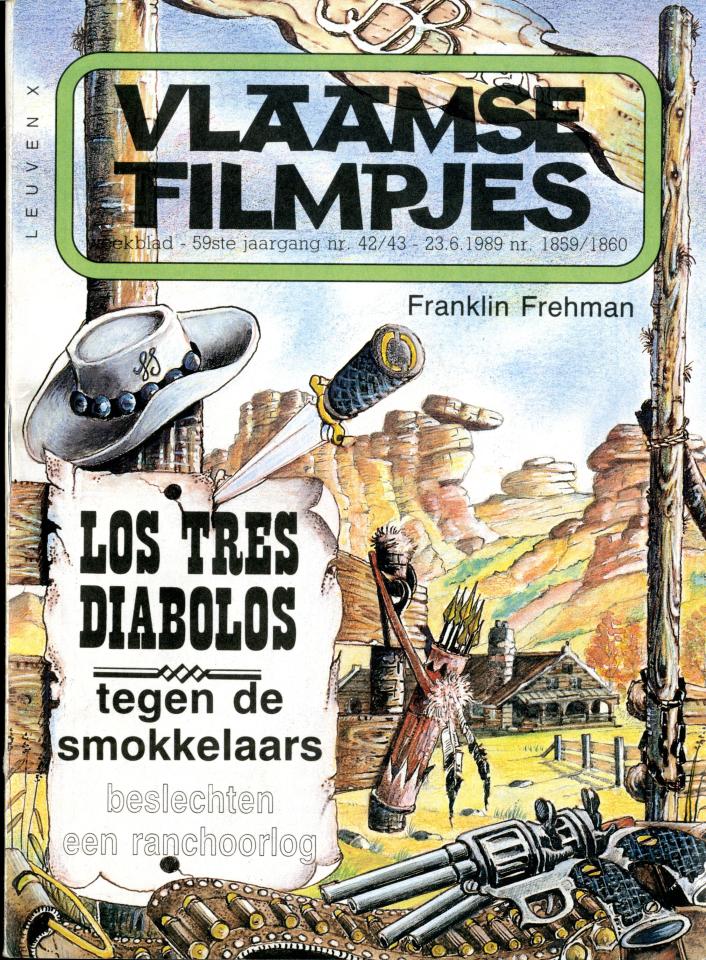 Cover from "Los Tres Diabolos tegen de smokkelaars"
Literary porn: 1967-69
Encouraged by the new mentality resulting from the sexual revolution, literary authors increasingly dared to write porn. These works were published by prestigious Flemish publishing houses, and could be freely and safely purchased and sold. Soethoudt raised his ambitions for his publishing house. He wanted to increase the literary quality of pulp novels and convinced several (literary) authors to follow this general trend. The effect was that the distinction between pulp and literature gradually blurred. Authors as well as publishers were proud to tell they earned more money writing porn than creating literary works. "Porn fiction brings in the money for literary works", as Soethoudt said.
C.C. Krijgelmans wrote a few novels for Soethoudt under the pseudonym 'Jug Me Bash'. He was introduced as the new star on the literary scene. Krijgelmans saw his chance, and as 'Karel Elleveest' he published an erotic dictionary for Soethoudt in installments. However, this work did not appeal to the public, so the series was discontinued.
Cover from "Joelala alfabet: van AAAAA... tot dom..."
The procreative offensive
In 1971 Soethoudt tried to enlist several famous literary authors in Flanders to collaborate on a porn novel of literary quality. Each author would write one chapter elaborating on the previous one or "procreating on it", hence the title Het voortplantingsoffensief, of De hele wereld kijkt toe [The procreative offensive, or: The whole world's watching]. However, after three chapters the plan fell apart. Eventually the book published consisted of separate entries by a number of the approached authors. Jan Emiel Daele sent in a few erotic poems. Louis Paul Boon was asked by Soethoudt to cooperate but refused. Boon's letter of refusal was shamelessly printed as his contribution. Strikingly the cover mentions the real names of the participating authors.
Cover from "Het Voortplantingsoffensief"
Geeraerts
The Flemish author Jef Geeraerts (1930-2015) was one of Soethoudt's collaborators, using the pen name 'Claus Trum'. A few years earlier Geeraerts had been at the heart of a controversy that even sparked off parliamentary discussion in the Belgian Parliament. In 1968 he published his autobiographical novel Black Venus, the story of his sexual adventures with Congolese women. The response to this work was mixed. Some critics praised the work for its innovating style and even called it "a literary masterpiece", whereas other critics condemned the book for being overtly racist and sexually exhibitionistic. The discussion peaked when in October 1969 the book was awarded the triennial National Prize for Narrative Prose [driejaarlijkse Staatsprijs voor verhalend proza]. A month later the book was confiscated by the authorities and removed from an Ostend bookshop. This incident caused a political debate. Barely a week later was the book released.
Since then Black Venus has known more than 30 reprints. The cover of the 1970 edition shows quite an explicit photograph of a reclining black female nude.
Cover from "De Fotograaf"
Hugo Claus
Another Flemish literary author whose work caused much controversy was Hugo Claus (1929-2008). His play Masscheroen (1967) was condemned of blasphemy because the character of the Holy Trinity was performed by three naked men, including the authors Freddy de Vree and Hugues C. Pernath. The play is a contemporary adaptation of the 16th-century miracle play Mariken van Nieuwmeghen [Mariken van Nieumeghen]. Initially Claus was sentenced to four years of effective prison and a fine of 10,000 Belgian francs. After a two-year trial he only had to pay the fine.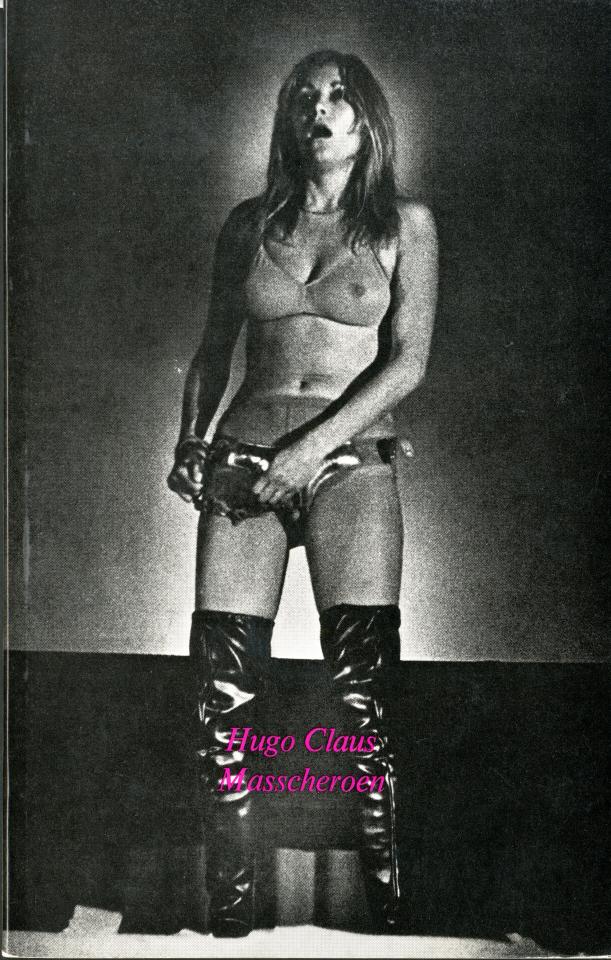 Cover from "Masscheroen: een spel"
Jan Emiel Daele
In the eponymous magazine daele by the Flemish writer Jan Emiel Daele his friend Herman J. Claeys – owner of the anarchist bookshop De Dolle Mol [The Mad Mole] in Brussels – launched in 1967 an appeal to introduce a new way of greeting instead of "the conservative handshake". He proposed a so-called 'penis and nipple'-salute. After the publication of the magazine house searches were conducted by the police on the premises of Claeys as well as Van Daele, to confiscate all copies of the issue. This action caused a great commotion in Flemish literary circles as this confiscation was considered a violation of freedom of expression and an unwelcome interference by the authorities. A daele emergency issue was published in which texts by various Flemish authors about the censorship of De PENIS-groet [The PENIS Salute] were collected. Here is shown, among others, the opinions of Boon and Claus.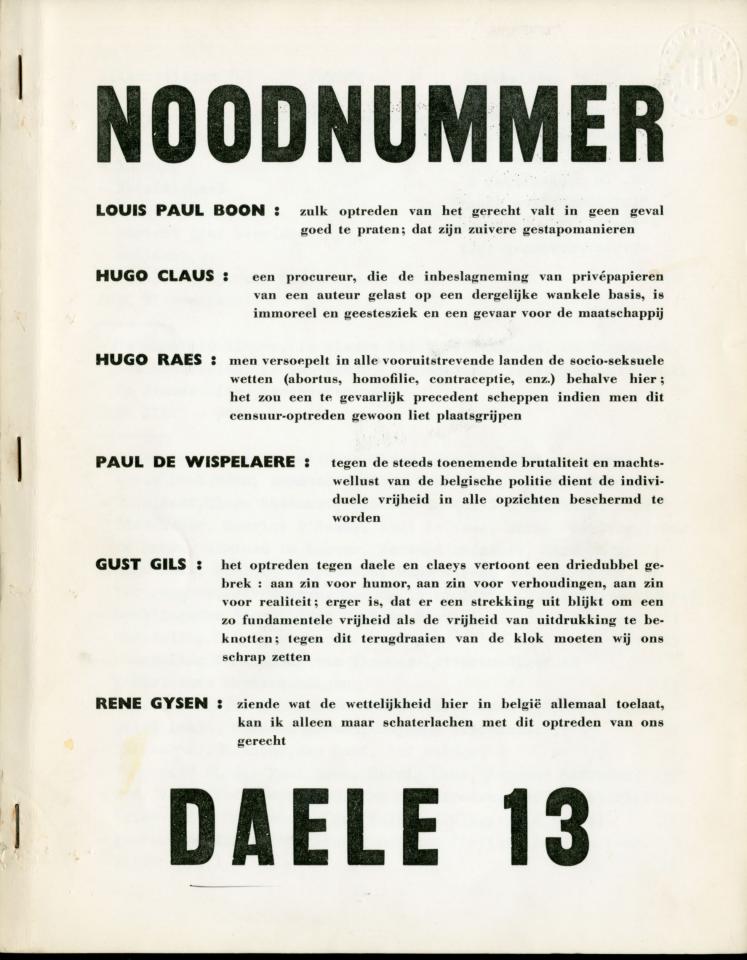 Cover from "Daele Noodnummer 13"
Louis Paul Boon
Despite his controversial work, the Flemish author Louis Paul Boon (1912-1979) never had to deal with censorship. After his book about the priest Daens, Priester Daens (1971) he was received with open arms by the Catholic community. Boon got irritated and he protested by writing Mieke Maaike's obscene jeugd (1972) [Mieke Maaike's obscene youth]. It is a story of a teenage girl relishing all kinds of sexual adventures. The work was very popular. Today it is seen as a satire on the social mores about sexuality prevailing at the time. Boon condemned the sexual revolution for having gone too far. For instance, the taboo on pedophilia had become less strict. After his death Boon's work got more strongly criticized and Mieke Maaike is now labelled child pornography by its opponents.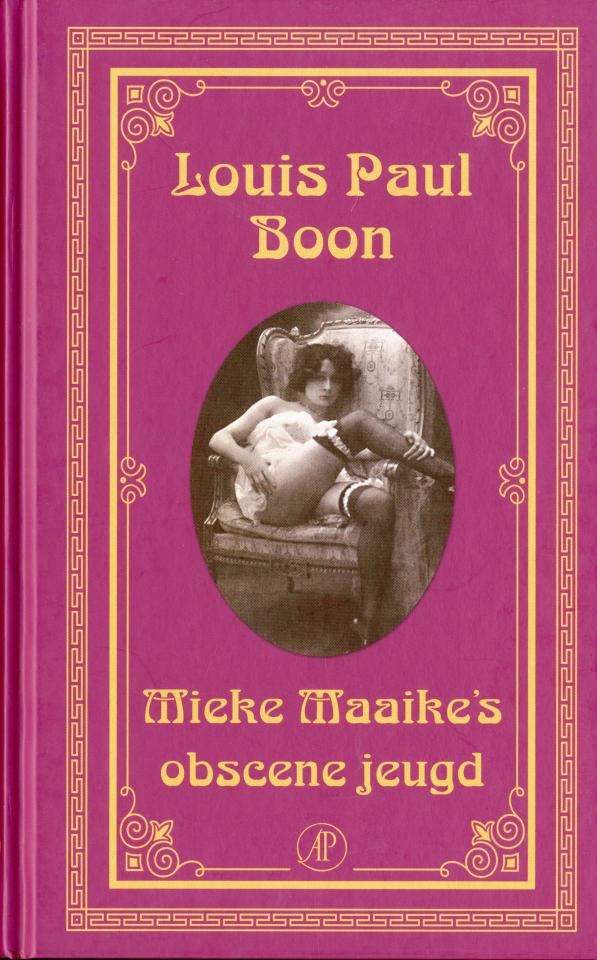 Cover from" Mieke Maaike's obscene jeugd"
Another work of Boon, his Fenomenale Feminateek [Phenomenal Feminathèque], a collection of explicit photographs of which a selection was published posthumously in 2004, has been heavily criticized and continues to be controversial. This work consists of a photograph collection of nude women. Part of the collection are photos of children, in Boon's own words "child women" or "Lolita's". Some of these depicted girls are barely three years old. The collection comprises more than 22,000 photographs.
The photographs have been published several times, including in the men's magazine Partner. Boon interviewed some of the girls, the so-called "playmates". In 2019 a journalist from Knack magazine, a Flemish magazine similar to Newsweek and Time, visited these women again to interview them about their past experiences.
In 2008 the collection once again caused a major controversy as the Antwerp Museum of Photography (FOMU) wanted to show these photographs in an upcoming exhibition. However, the provincial authorities, being the governing body of the museum at that time, canceled the exhibition because 'the artistic value' of Boon's collection was considered insufficient to merit being showcased.
Cover from "Partner: maandblad voor mannen vol. 9"
Credits
This online exposition is based on the exposition Porno, pulp & literature that was held in the Nottebohmzaal of the Erfgoedbibliotheek Hendrik Conscience from december 2019 until february 2020. Lees hier meer over deze expo