'Being a story of friendship closer than brotherhood'
A Dog of Flanders (UK, 1872) is an English novel by Ouida (pseudonym for Marie-Louise de la Ramée) focusing on the adventures of Nello and Patrasche. The poor orphan boy Nello, who lives in Hoboken (near Antwerp) with his grandfather since his mother died, befriends Patrasche, a deserted drafting dog who was almost beaten to death.
Nello and his grandfather take good care of the dog and he recovers. In turn, Patrasche helps Grandfather and Nello to sell milk by pulling their milk cart into town every day. However, they earn very little and their living conditions remain poorly. Over time, Nello and Patrasche become very close and they often go to town to admire the work of Rubens in the cathedral. Nello hopes to see the famous works The Elevation of the Cross and The Descent of the Cross, but those are only accessible to paying visitors.
After grandfather's death and a series of misfortunes, Nello loses his job and becomes homeless. On the night of Christmas Eve, the boy and his dog go to Antwerp and, by chance, find the door to the church open. The next morning, Nello and Patrasche are found frozen to death in front of the Rubens altarpiece.
The British writer Ouida wrote A Dog of Flanders after she visited Belgium and was confronted with the poor conditions of children and animal abuse. In her novel, she combined fictional characters with a clear image on the Belgian reality, such as the art of Rubens, and the living conditions of the working poor.
An unknown children's classic
The story of Nello and Patrasche is famous in the U.K. and the U.S.A. In Japan and other countries in East-Asia, it is a true children's classic. More than 100.000 copies have been sold worldwide and the novel has been adapted for cinema and television, including five Hollywood versions. Every year, thousands of international (mainly Asian) tourists visit the Antwerp city center to follow in the steps of Nello and his 'dog of Flanders'. As such, Nello and Patrasche have become prominent ambassadors of Flanders.
Oddly enough, Nello and Patrasche are little-known in Flanders. Recently, efforts have been done to alter this situation. Tourists can visit a small statue of Nello and Patrasche in Hoboken The characters are also immortalized in stone by the artist Batist ('Tist') Vermeulen in front of the Antwerp cathedral (Handschoenmarkt). . In 2007, Didier Volckaert and An van Dienderen directed a documentary film on the unique popularity of A Dog of Flanders in the world, Patrasche, a Dog of Flanders - Made in Japan. And in September 2020, the award-winning Antwerp city guide Tanguy Ottomer will publish a new Dutch adaptation of Ouida's famous children's book.
A Dog of Flanders in the Conscience Library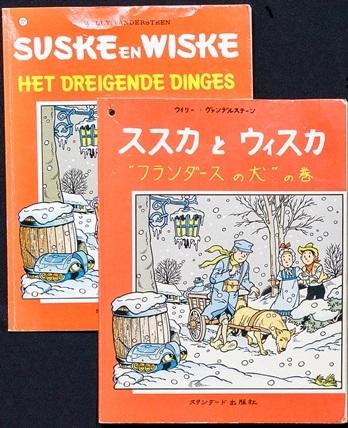 Over the years, the Hendrik Conscience Heritage Library has obtained a beautiful collection with respect to A Dog of Flanders. The oldest copies date back to the late nineteenth century. Besides the obvious editions in English, the collection holds translations in Japanese, and even in Esperanto. There are andvarious adaptations including the Suske & Wiske-comic Het dreigende dinges, written in 1984 by Paul Geerts, and its Japanese translation,a 1878 Flemish adaptation of the original story by the Antwerp publisher Hendrik Sermon, and a much more recent one by the Antwerp journalist Fernand Auwera. The collection also contains a 'Nello and Patrasche' walking tour and tourist information in Dutch, English and Japanese published by the Hoboken district.
Further Reading
Van Dienderen, An & Didier Volckaert, A dog of Flanders. Een nooit geziene kijk op Vlaanderen. Tielt: Lannoo, 2010.
Tormans, Stijn, 'A Dog of Flanders: hoe Nello en Patrasche een nieuw leven kregen', Knack, 2/10/2019.